On Sunday, Oct. 23, we will lift up our partners at Believer Bible Chapel in Monrovia, Liberia. During both services, we'll learn about this important partnership started by some of Christ the King's Liberian members and friends.
The history of Liberian Partners
Liberia, a country in West Africa, suffered under almost constant civil war from 1989 to 2003. It is estimated that at least 250,000 people were killed. Then, the country was again devastated by the Ebola epidemic in 2014 and 2015.
Today, there is a democratically elected government, but the economy still struggles. Nearly 43 percent of its population of four million is under the age of 14.
Believer Bible Chapel—a small congregation near Monrovia—recognized that education is the hope for Liberia's future and established a school that now serves 168 students ages 3 to 13. Many of the students are orphans, originally from the war and AIDS, and now also from the recent Ebola epidemic. These students live with Pastor Prince and other families in the congregation.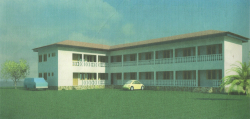 CtK connected with Believer Bible Chapel because its founder, Pastor Prince, and one of our members, Esther Nyekan, worshiped together in a refugee camp in Ghana during the civil war. Esther and her husband, Victor, emigrated to the United States and are members of CtK. Pastor Prince returned to Liberia and founded the congregation.
CtK has partnered with Believer Bible Chapel and its school since 2009. We have regularly purchased rice and sent school supplies for the students. We have also helped to purchase roofing materials for the church building and sanitation supplies during the Ebola crisis, a very real threat to the students and the community.
The dream
Currently, the school meets in the church building. Classrooms are divided only by blackboards. Students sit on benches as there are no desks. The dream is to build a two-story school building with actual classrooms and desks for the students. The CtK Foundation (see page 10) has generously given two $3,000 grants toward the building. The total cost is estimated to be $60,000 with members of the congregation doing much of the construction.
In addition to these grants, Liberian Partners was recently supported by a portion of the last Capital Appeal as it is being brought into our annual budget for ministry. The work of Liberian Partners is an important component of our collective mission and ministry. Each time support is given to the whole church, support is also to given ministries such as Liberian Partners. Come, learn, and show your support on Oct. 23.