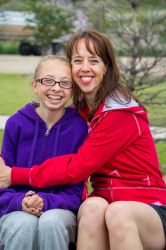 On Saturday, June 18, 33 youth and adults from Christ the King will head in our 15-passenger vans to spend a week serving in Knox County, Kentucky with the organization
Appalachia Service Project
(known to many at CtK simply as ASP).
Two of the participants on this trip will be Mom-Daughter combo, Kristen and Ellie Goligowski.
"When thinking about ASP and what it's taught me about serving my neighbor, I think about filling a need in this world," says Kristen. "By serving my neighbor in this way, I feel like I am fulfilling in a small way WWJD (or What Would Jesus Do?) and doing so strengthens my faith. There's no getting away from the fact that it is hot, dirty, and hard work; but seeing the changes we make and the gratitude of the folks we're serving is so meaningful. And that's all the while building relationships with the youth and adults at CtK that I absolutely treasure.
"I was able to be on the trip last year with my daughter Ellie. She said she serves CtK and ASP because she likes being in community with people. She also said that ASP has taught her to be grateful for what she has, thank God for everything every day, as well as use our resources wisely. I believe those are very important life lessons for all ages and am grateful that CtK supports a youth mission trip that teaches them."
Please keep Kristen, Ellie, and the rest of our ASP team in your prayers as they go out and serve our Appalachian neighbors.
ASP travelers to be commissioned on June 12
Join us in worship this Sunday, June 12 as we send our youth and adults on the 2016 ASP trip. Follow the group on social media at #ctkbuilds.