On Sunday, Nov. 30, 2014, we welcomed gifted singer-songwriter Ken Medema to Christ the King. Medema led music in morning worship services and performed an afternoon concert on behalf of youth embarking on the ASP trip to Tennessee next summer.
During his years of performing, Medema has built a reputation as a talented musical storyteller. "I have always been impressed by his immense creativity," says CtK Minister of Music Bruce Phelps, "He has a gift not only for playing music but for thinking of sacred lyrics, in little to no time." Medema listens to people's stories then, mere seconds later, interprets them through music.
About half way through yesterday's concert, Medema encouraged audience members to come forward and share a story of change, a story of stepping out of one's comfort zone and taking a risk. The stories were moving and, at times, heart-breaking. Powerful stories transformed into profound music.
Members of all ages and stages of life came shared experiences of hardship and grief and of hope and new life. As Medema put these stories to song, the collective emotion of the audience was palpable. (More than a few tissues dabbed teary eyes at this point in the concert.)
Another concert highlight came when youth and adult participants in the 2015 Appalachia Service Project (ASP) trip came to the stage. Medema, familiar with the organization, asked the participants about their experiences in Appalachia and their hopes for next year's trip. They talked of the striking poverty they witnessed and perspective that often gives to the comforts we become accustomed to in our own lives.

Participants often go on service trips with the expectation of helping others. But what so often happens is the people we go to help end up helping us right back. In conversation with Medema, youth participants revealed that working with homeowners taught them important lessons about resilience, courage, and hope in the face of insurmountable obstacles.
It was an evening of laughter and joy, of truth and hope. It was an evening not easily forgotten. We are incredibly thankful that Medema came and shared his incredible gift with us.
I leave you with some Medema's own words from the song, "Time:"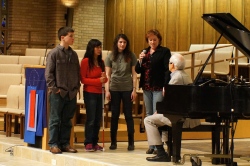 To everything there is a season
And a time for every purpose under heaven
And a time for…
Time to stand in the jet-black night
And watch the stars as they dance across the sky
Time to walk on a sandy beach
And put my feet in the cool, cool sea
Time to walk in a town I've never seen
And hear the sounds of life all around
Time to read a book right to its ending
Time to hold someone who needs befriending
Time to know the wonder of forgiving
Or watch a child who knows the joy of living
Time to stop and time to dance
Time to be safe or take a chance
Time to give and time to take
Time to mend and time to break
Time to learn the wisdom of the ages
Time to learn the wisdom of a child
Time to feel a thousand new emotions
Time to give my heart in deep devotion
Time for grief and time for pain and sorrow
Time to rise and face my new tomorrow
I don't want much, I just want time,
Lord, I don't want much…
I just want time, this time
If you didn't get a chance to donate to CtK youth participating in the 2015 ASP trip and would like to, special giving envelops are available in the office or at the welcome center. If you're a CtK member, you may also write ASP next to Other on your normal offering envelopes.